Wisdom Tooth Removal Can Eliminate Pain and Prevent Complications
What Are Wisdom Teeth?
Wisdom teeth are sometimes referred to as a set of third molars that usually begin to appear between the ages of 17 and 21. In most patients, all four teeth develop. For a very small number of individuals, these teeth may erupt in their rightful place behind the existing back molars. Unfortunately, for many patients, the teeth only partially erupt, do not develop at the right angle, or are impacted within the jaw. Removal is typically recommended for any patient experiencing pain related to their wisdom teeth.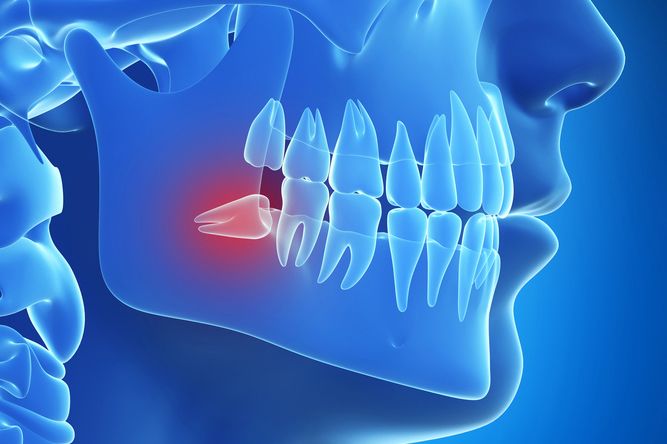 How Are Wisdom Teeth Removed?
Wisdom tooth extraction is a common and relatively simple oral surgery that can prevent potentially costly and painful complications. Dr. Olszewski will take a panoramic radiograph to evaluate your wisdom teeth and determine whether they need to be extracted. Wisdom tooth extraction is done on a case-by-case basis. If teeth are positioned in a way that extraction would be difficult or complex, Dr. Olszewski will refer you to an oral surgery specialist for the removals.
Our team can provide effective treatment to protect your oral health and alleviate discomfort.
Benefits of Extraction
The primary benefit of removing the wisdom teeth is to prevent or eliminate pain and damage that develops because of this incoming set of molars. Wisdom tooth removal can prevent crowding in your existing smile, which could result in misalignment. Extraction also prevents damage to the existing teeth as well as the facial bones that can develop from impacted teeth or wisdom teeth that come in at an angle. Additionally, wisdom tooth extraction can prevent various gum conditions and infection that can develop from impacted teeth.
Schedule Your Appointment
If you are experiencing any pain or discomfort that you suspect is associated with your wisdom teeth, contact our dental office today. Our team can coordinate treatment to protect your oral health and alleviate discomfort.