Porcelain Veneers Provide Outstanding Cosmetic Results
Stained, gapped, and cracked teeth can prevent you from feeling confident in your smile.
At her practice serving patients in Hadley, Easthampton, and Northampton, MA, Dr. Teddi Olszewski offers porcelain veneers to conceal dental imperfections and create your ideal smile.
Why are porcelain veneers a popular cosmetic treatment?
Veneers Improve Your Smile with Ease
Lifelike Appearance
Dr. Olszewski takes great care when designing your veneers for the most realistic results that flatter your smile. Additionally, we use high-quality dental porcelain that reflects light like natural enamel.
Comprehensive Results
Veneers can conceal a variety of minor cosmetic flaws, including stubborn stains, gaps in your smile, or cracks in your front teeth. As such, they can dramatically enhance your smile in a very short amount of time.
Durable
Veneers are designed to withstand normal biting forces. They can often last 10 years or even longer with proper care. However, it is important to avoid chewing hard objects such as ice to prevent damage.
Veneers are designed to cover the front surface of worn, discolored, or otherwise imperfect teeth...
What issues can porcelain veneers address?

Veneers Can Improve Teeth That Are:
Dr. Olszewski will provide a complete pre-treatment consultation that will allow you to thoroughly explain your goals and even preview what your smile will look like following treatment. She will then work with our partner dental lab to provide veneers that are a natural-looking match for your teeth. Find out if veneers are right for you. Schedule an appointment with Dr. Olszewski today.
Tell me more about the procedure...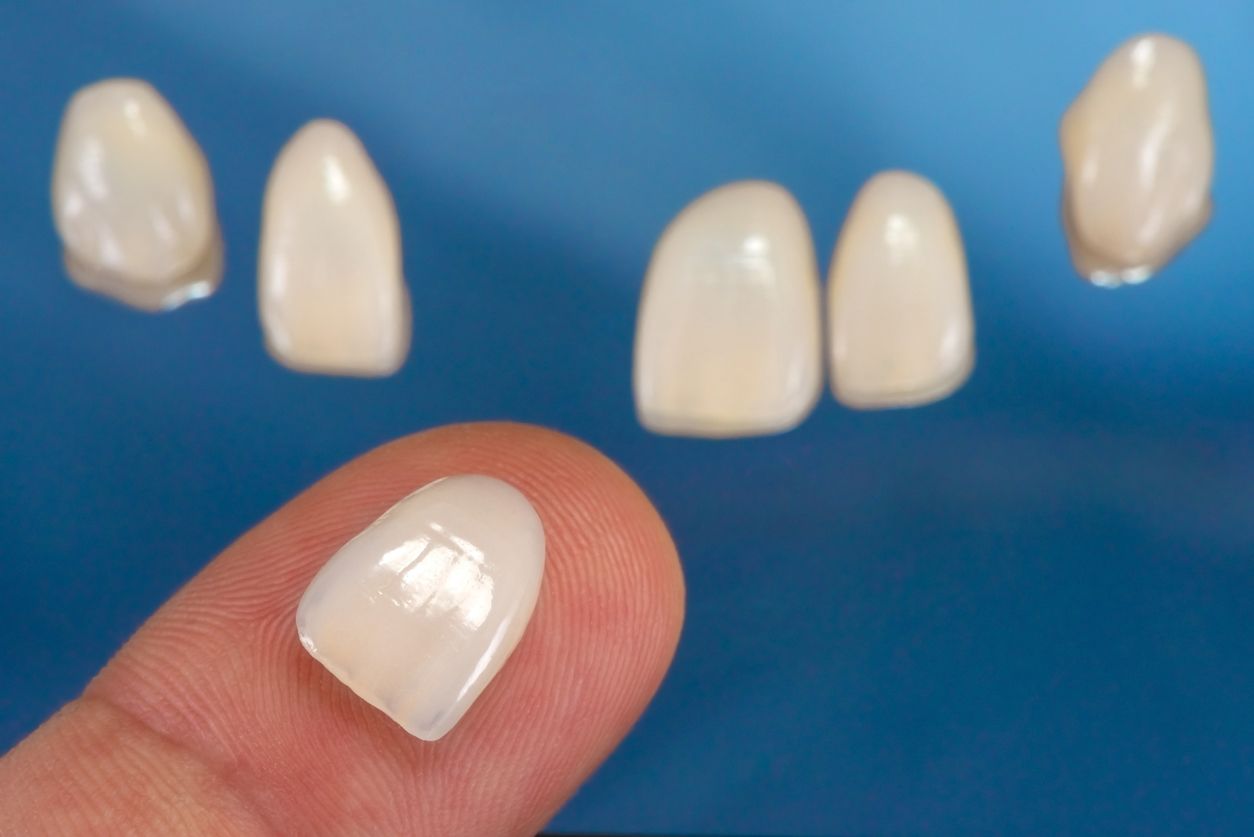 What Are Veneers?
Veneers are essentially very thin shells of porcelain. Although they are about the thickness of an eggshell, they are incredibly durable, and with proper care, they can last many years.
Dr. Olszewski will apply the veneers to the front of your teeth, and they can conceal several cosmetic issues at once. In some cases, they can even serve as "instant orthodontics," making one or more slightly crooked teeth look straight.
I'm worried about my veneers looking unnatural...

We Work Carefully to Ensure Lifelike Results
We use the highest quality materials and work with a trusted lab to fabricate our custom veneers. When we first sit down with you, you will have a chance to see our patient results so you can point out what you do and don't like about their smiles. Dr. Olszewski will also perform temporary cosmetic bonding to show you what your final results will look like. You will be able to wear these temporary veneers out of the office, and you can give us feedback so the dentist can provide permanent veneers that meet your goals.
Your Consultations
Veneers require at least two appointments with Dr. Olszewski. During the first visit, she will evaluate your oral health, listen to your goals, and determine your candidacy for porcelain veneers. Dr. Olszewski will remove a fine layer of enamel from the surface of the teeth you wish to treat, making room for the veneers. She will take impressions of your prepared teeth teeth and send them to our partner dental lab. Dr. Olszewski will provide temporary veneers until your next visit.
Skilled ceramists will use the impressions of your teeth, along with your input and feedback, to create veneers that blend seamlessly with your smile and meet your goals. When the veneers arrive back at our office, you will return to have them placed. The dentist will lightly etch the surface of your teeth with a mild acid solution. This procedure is comfortable, and it creates a stronger bonding surface for the veneers. Finally, Dr. Olszewski will check the fit of the veneers, make any necessary adjustments, and attach the veneers to your teeth with dental cement.