Increase Your Eligibility for Dental Implants with a Sinus Lift Procedure
Dental implants can provide a dramatically improved quality of life for patients who are missing teeth. Oftentimes, placing dental implants in the upper jaw presents a unique set of challenges, especially in avoiding disruption of the sinus cavity. Dr. Teddi Olszewski can perform a sinus lift procedure at our Northampton, MA, practice to raise your sinus floor and increase bone density in the area, improving your candidacy for an implant-supported restoration.
Placing Dental Implants in the Upper Jaw
By design, the upper jawbone is less dense than the lower jawbone. Therefore, there is less natural bone tissue available. This fact alone can present a challenge when placing dental implants. Additionally, implants that are placed in the back of the jaw are in close proximity to the maxillary sinus. When upper back teeth are missing, it is possible for the sinus cavity to drop down and invade the space once occupied by the teeth roots. In cases such as this, dental implants cannot be placed, because the posts would penetrate the sinus membrane. A sinus lift, however, can effectively raise the sinus to its appropriate location and increase bone tissue to accommodate a dental implant.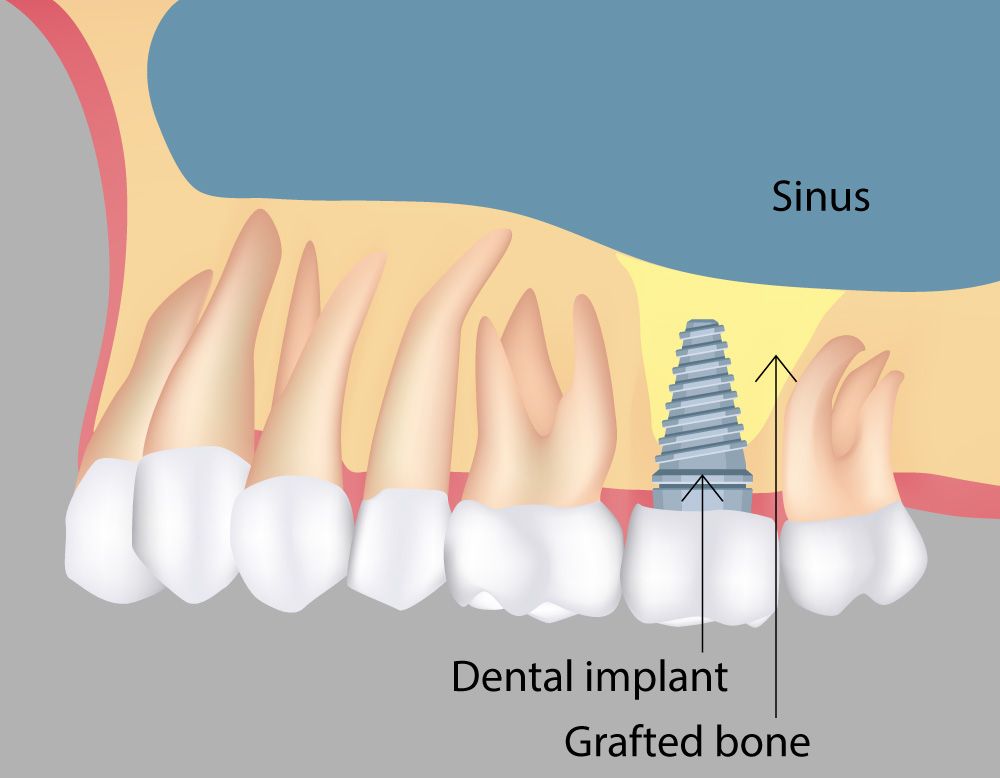 Who is a Candidate for a Sinus Lift?
Anyone with a weak upper jaw can benefit from a sinus lift. This deficiency in bone density can be caused by:
Difficult tooth extractions
Jaw injury or trauma
Prolonged tooth loss in the area
Thin sinus walls
Large sinus cavities
Gum disease
To determine your candidacy for a sinus lift, Dr. Olszewski will perform a complete assessment of your teeth, gums, jawbone, and facial structures. Scans and x-rays will be taken to evaluate existing bone density and the location of your maxillary sinuses. These steps will help her establish whether a sinus lift procedure would improve your eligibility for dental implants.
A sinus lift can effectively raise the sinus to its appropriate location and increase bone density to accommodate a dental implant.
The Sinus Lift Procedure
Most patients who undergo a sinus lift procedure at Northampton Family & Cosmetic Dentistry opt to receive sedation. This will relax you and ensure your comfort during your treatment. Once you are comfortable, Dr. Olszewski will administer local anesthesia to numb your gums in the area. An incision will be made in the gum tissue to access the underlying jawbone. Dr. Olszewski will then create a small hinged window in the jawbone, which will allow her to access the sinus membrane. Using specialized dental instruments, she will gently and meticulously raise the membrane to its proper location. The void underneath the new sinus floor will then be filled with a bone grafting material to improve the jawbone density and increase the bone height by several millimeters. The gum tissue will then be repositioned, and the surgical site will be closed with stitches.
Recovery following a Sinus Lift
During the first few days after your procedure, you will most likely experience slight bleeding, swelling, and general soreness in the area. This can be managed with prescription medications and over-the-counter pain relievers. You will be given detailed post-operative instructions so that you can enjoy a successful and comfortable recovery.
Although you will be feeling back to normal again just a few days after your surgery, you will require six to nine months of healing before your dental implants can be placed. During the healing process, the jawbone will become solid and dense, and should provide a sufficient foundation for your new smile.
Learn More about Sinus Lifts
If you are missing teeth, but have been told you do not have enough jawbone tissue to support dental implants, a sinus lift could be an option for you. To determine your eligibility, schedule a consultation with Dr. Olszewski. You can contact us online, or call our office at (413) 584-2902.