Invisalign® vs. Braces: Which One Is Right for You?
We understand that patients with crooked, misaligned, or crowded teeth are often looking for options to straighten their bite. At our Northampton, MA, dental practice, Dr. Teddi Olszewski offers both Invisalign® and braces, each of which can provide effective results. Some patients may prefer the clear, removable feature offered by Invisalign®, while traditional braces may be a better choice for patients with more severe misalignment. Understanding the differences between Invisalign® vs. braces will allow you to make an educated decision about your smile.
Comfort and Aesthetics
Invisalign® aligners are virtually invisible, making them a popular choice for adult patients who want to achieve a straighter smile. Each aligner is fashioned to fit comfortably over your teeth. Made from clear, BPA-free plastic, most people will not be able to tell you are wearing aligners.
Dr. Olszewski will perform a complete examination and help you determine which treatment option would be best suited for you.
Traditional braces involve metal brackets and wires that are seen and can sometimes irritate the inside surface of your lips. If comfort and aesthetics are a major priority for you, and you do not suffer from severe misalignment, then Invisalign® may be a good option for you.
Treatment Timeline
The duration of your treatment will depend on the severity of your dental misalignment. On average, braces are typically worn for about two years. In most cases, patients can achieve results using Invisalign® in about 12 to 15 months, making it a faster treatment option.
However, braces can help correct a host of problems, including severe issues with your bite and unevenly spaced and crooked teeth. Although treatment with traditional braces may take longer overall, patients will be able to enjoy a lasting and attractive smile.
Cleaning and Cost
Since Invisalign® aligners are removable, there are no food restrictions and teeth can be easily brushed and flossed. With braces, it can take special brushing and flossing techniques to prevent food from getting trapped in between teeth and around wires. With braces, it is also important to avoid certain foods to prevent damaging your brackets or wires.
However, when wearing Invisalign® aligners, and before reapplying them, it is necessary that you brush your teeth. This will require carrying a toothbrush and toothpaste with you, which may be a nuisance for some. If cost is a consideration for you, braces typically cost around $7,000 while Invisalign® can be offered under $5,000.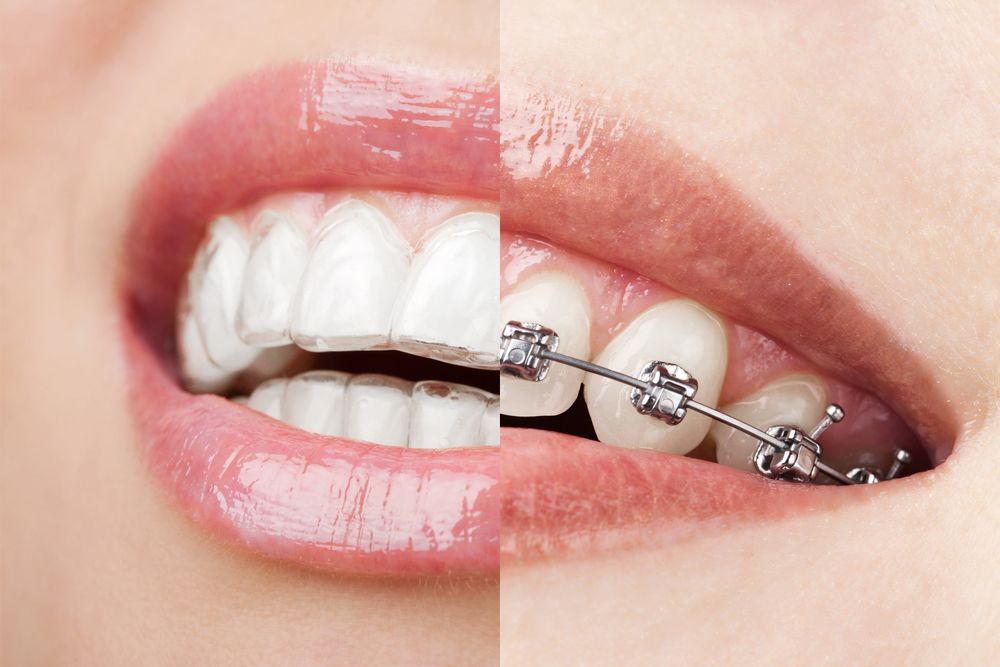 Which Treatment Is Right for You?
Although Invisalign® may seem to offer more benefits over traditional braces, this orthodontic treatment is unable to correct severe issues. With Invisalign®, the effectiveness of treatment is dependent on how often you wear the aligners. If you or your child lacks self-discipline, treatment can take longer, resulting in more money in the long run.
When considering which treatment option is for you, it is important to ask yourself whether you can commit to wearing your aligners 20 to 22 hours each day. If you have a child who is known for losing items, it is possible that aligners can turn up missing. In such cases, traditional braces would serve as a better option.
Schedule Your Consultation
To learn more about Invisalign® or braces, visit our dental practice for a consultation. Dr. Olszewski will perform a complete examination to help you determine which treatment option would be best suited for you. To reach us, complete our online form or call our office at (413) 584-2902.