Prevent Bone Loss with Implant-supported Dentures
Implant-supported dentures provide security and convenience and prevent bone loss caused by missing teeth. Without the stimulation tooth roots provide to the jaw, bone tissue may begin to deteriorate and cause the face to appear sunken. Dr. Teddi Olszewski has a soltuion: she can provide you with a fully customized set of implant-supported dentures at her Northampton, MA, office.
Traditional dentures fail to stimulate the jawbone, may limit the foods you can eat, and can negatively impact the way you speak. With an implant-supported denture, missing teeth need no longer prevent you from enjoying the foods you love or smiling with confidence.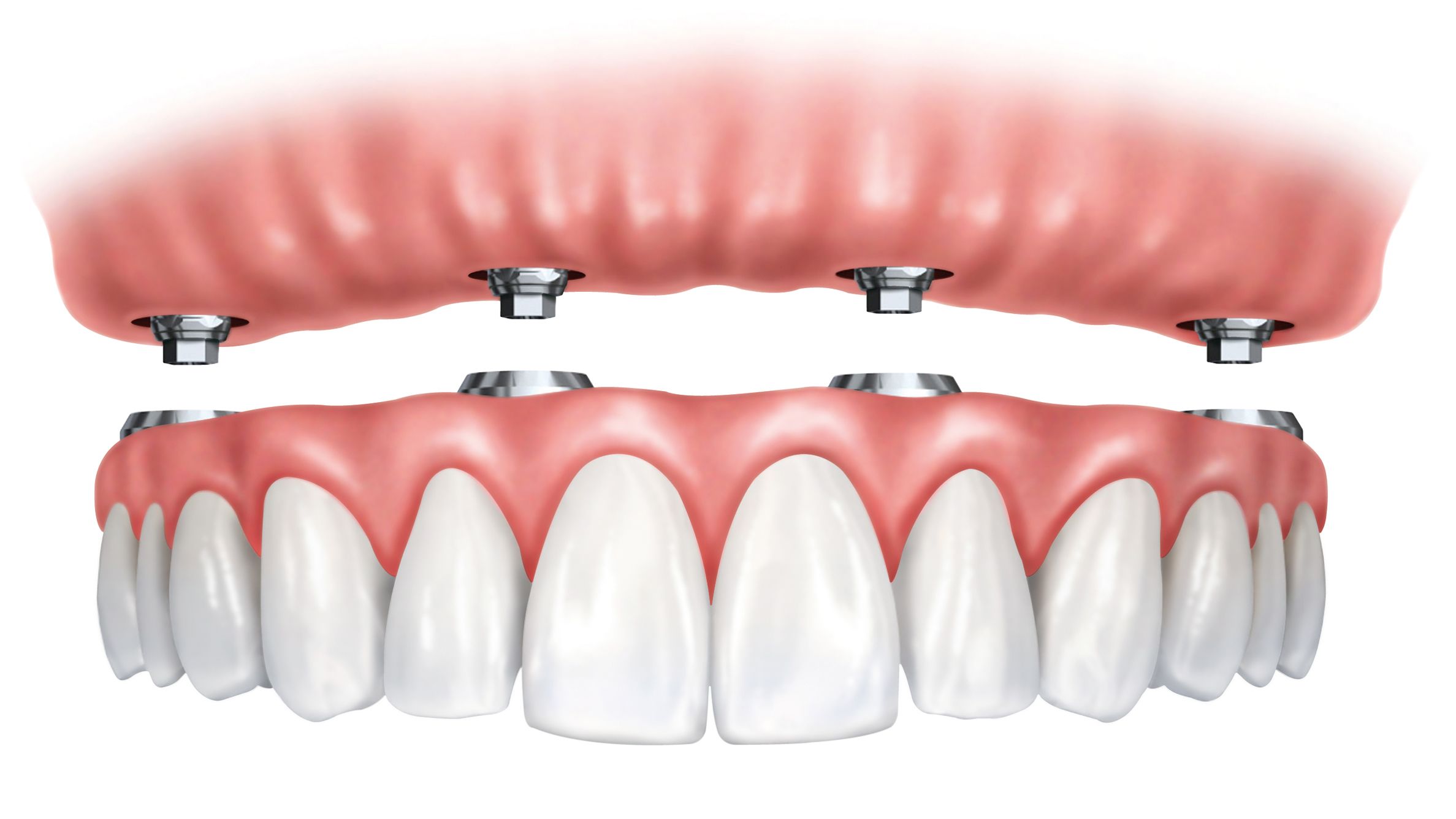 What are Implant-supported Dentures?
Implant-supported dentures are specially designed full arch restorations secured to strategically placed dental implants, offering unsurpassed support. The implants are typically made of titanium or zirconium, and are surgically implanted. The plastic or acrylic base of the denture affixes to abutments on the implants. Implant restorations are comprised of a variety of durable materials and can be cleaned and cared for just like your own teeth. With proper maintenance, restored implants can last a lifetime.
Implant-supported dentures offer a permanent solution for tooth loss that will restore the function of your bite while delivering a dazzling new smile.
Your Consultation
A consultation with Dr. Olszewski can give you a much clearer picture of the numerous options you have if you select implant-supported dentures. It is important that you have clear goals coming into your consultation, to help us provide you with the best dental recommendations possible. During your consultation, you can expect to discuss:
Restoration materials
Timeline for surgery and recovery
Options including overdentures and partial dentures (also known as implant-supported bridges)
Any preparatory procedures you may need
An investment in the future of your smile should not be taken lightly. We encourage patients to ask as many questions as they may have before choosing implant-supported dentures.
The Placement Procedure
When you come in for your dental implant surgery, you will be given a local or general anesthetic, depending upon the length and complexity of your surgery. The implants, which consist of titanium screws, will be carefully placed in the jaw through the gums, and the gums will then be closed over the surgical site so that the healing process can begin. Dr. Olszewski can further discuss recovery from surgery and the placement of the restoration following implant surgery during your consultation.
Benefits of Implant-supported Dentures
While many of the benefits of implant-supported dentures entail their convenience and the ease with which they can be cared for, they are also often recommended as a restorative solution to prevent bone loss, among other things:
Implant posts in the jaw stimulate the bone, preventing jawbone atrophy.
The lack of stimulation that comes with tooth loss can lead to a collapsed bite. Patients who choose implant-supported dentures will retain their facial structure.
With a permanently attached restoration, patients who used to use traditional dentures may enjoy the freedom of once again eating and speaking with confidence: no more worrying about the embarrassing denture slips or avoiding the foods you love.
Traditional dentures frequently require refinements as the jaw shrinks and changes shape. Implant-supported dentures rarely need such refinements, as the implants prevent bone atrophy.
Implant-supported dentures provide secure and lasting support, and are as easy to maintain as your own teeth.
Dramatically Improve Your Smile
Supporting your dentures with dental implants prevents bone loss and can help you retain a natural facial structure and youthful appearance. Contact Dr. Olszewski to schedule a consultation today and learn more about this permanent solution for tooth loss that will restore the function of your bite while delivering a dazzling new smile.