Dental Implants: Unparalleled Stability and Function for Your Crowns, Bridges, or Dentures
Missing teeth not only make it nearly impossible to eat and speak normally, but can cause you to feel self-conscious about your smile.
Dr. Olszewski, serving Easthampton, Hadley, and Northampton, MA, provides dental implants to restore natural function and aesthetics to your smile for a lifetime.
Why should you consider dental implants?
Dental Implants Provide Unparalleled Results
A Durable Solution
With proper care, dental implants can last for a lifetime. Dental implant maintenance is no different from maintaining your natural teeth, requiring only daily brushing and flossing, along with regular dental cleanings.
Restore Function & Aesthetics
Implant-supported crowns, bridges, and dentures can restore the aesthetics of your smile by closing gaps and replacing damaged teeth. They also restore dental function, allowing you to once again speak and eat normally.
Protect Your Oral Health
Dental implants can protect against jawbone atrophy. Since an implant post is a direct replacement for a tooth root, it provides the stimulation necessary to retain bone tissue.
Ready to Restore Your Smile? Schedule a Consultation with Our Dentist Today
Living with missing teeth can affect your oral health, nutrition, and self-esteem. But implant dentistry is a reliable method of tooth replacement that can help you smile confidently once more.
Dr. Olszewski provides advanced, affordable dentistry in a comfortable, stress-free setting. She is also a member of many prestigious dental groups, including:
American Dental Association
Massachusetts Dental Society
To schedule a dental implant consultation at our Northampton, MA, office, message us online or call us:
Let's look at how a single implant is used to replace a missing tooth...
Implant-Supported Restorations Consist of Three Parts
An implant-supported restoration is made up of three parts: a titanium post, an abutment, and a custom restoration. Titanium is commonly used to create dental implants because of its durable, biocompatible qualities. After implant surgery, the titanium implant will fuse with the surrounding bone tissue and create a strong foundation for the next steps of treatment. Once your implant has fused with your bone tissue, Dr. Olszewski will place an abutment on top of the implant. This abutment will anchor your final crown, bridge, or denture in place.
Tooth Loss Is a Common Dental Issue
*According to the National Institute of Dental and Craniofacial Research
After age 65, the average person has lost more than 13 teeth and is left with a mere 18.90 natural teeth.
Are dental implants right for you?
Certain Factors May Affect Your Candidacy for Dental Implants
Jawbone Density
If you have suffered jawbone atrophy, you may not have sufficient bone tissue to support dental implants. However, bone grafting can improve your candidacy.
Gum Disease
Dental implants require healthy gum tissue. As such, gum disease must be treated prior to receiving dental implants.
Smoking Habits
Smoking can increase your risk of serious complications. You must be willing to quit smoking before treatment and during your recovery.
Overall Health
As with any surgical procedure, you should be in good overall health to qualify for dental implant treatment. Your doctor will review your medical history to determine any potential conditions that will conflict with treatment.
More Candidacy Considerations
Bone Density: Sufficient bone density in the jaw is necessary to provide support for the implants to guarantee their longevity and durability.
Adequate Spacing: If the upper jaw has been weakened as a result of tooth loss, it can create inadequate spacing between the upper jawbone and sinuses.
Gum Health: It is imperative that you are free from tooth decay or periodontal disease (gum disease) since these issues can lead to dental implant failure.
Cigarette and Tobacco Use: Quitting smoking or the willingness to stop smoking during the osseointegration period is important. Tobacco products slow your body's healing response and can result in dental implant failure.
Current Health Status: Good oral and physical health are necessary for success. Dr. Olszewski will review your medical history and current health status to ensure you are a good candidate for implants. Immune disorders, such as diabetes or rheumatoid arthritis, can hinder the body's healing response and cause complications.
Commitment to Healthy Habits: Patients must be willing to commit to proper oral health habits and routine dental visits after dental implant surgery.
Treatments that Improve Candidacy
If gum disease or insufficient bone density is an issue, Dr. Olszewski may be able to improve your chances for candidacy with the following treatments:
Bone Grafting: During bone grafting treatment, bone tissue will be taken from another area of your body or harvested synthetically and inserted directly into your jawbone where the bone loss has occurred. Over a two to three month period, the harvested tissue will integrate with surrounding bone and strengthen the treatment area.
Sinus Lift: When bone loss has occurred in your upper jawbone or there is insufficient spacing, the same harvesting treatment performed with bone grafting can be used. During a sinus lift, the tissue will be inserted between your upper jawbone and sinus membrane, providing added support and protection.
Periodontal Disease Treatment: Depending on the severity of your symptoms, Dr. Olszewski can perform scaling and root planing to eliminate unhealthy bacteria. In more severe cases, gum surgery may be recommended to remove damaged tissue.
Can dental implants treat your condition?
Dental Implants Can Address Any Number of Missing Teeth
Implants can be used in a variety of ways to replace missing teeth:
Single Tooth Replacement — When you are missing one tooth, a single implant is inserted into the bone to replace the root of that tooth; a crown then goes on top.
Multiple Tooth Replacement — When you are missing more than one tooth, implants can provide an ideal replacement mechanism. You don't need an implant for every missing tooth. For example, if you are missing three teeth in a row, we can place two implants to support the entire dental bridge. An advantage of this solution is that there is no need for natural teeth to serve as supports for fixed bridgework.
Replacing a Full Dental Arch — Implants make dentures more comfortable and effective. Traditional dentures rest directly on the gums and cannot stop bone atrophy. For this reason, they require frequent adjustments. However, in the lower jaw, we can place two implants to support the entire denture for stability and prevention of bone atrophy. The stability provided by implants is also important because it prevents the tongue from easily displacing a lower denture in the normal course of eating and speaking. In the upper jaw, an implant-supported denture requires more than two implants because there is less bone density than in the lower jaw.
"Teddi and her entire staff are AMAZING with patients who have a real phobia regarding going to the dentist. They are the nicest, most accommodating people who are nonjudgmental, regardless of how many years it's been since you've been to a dentist. I highly recommend this practice, especially to those who are anxious about cleanings and dental work. "

Kimberly M., November 2019
Dental Implants Are the Only Treatment Designed to Stop Bone Loss
Unlike conventional restorations, implant-supported restorations can help stop the progression of jawbone loss, which typically happens after you lose a permanent tooth. By helping your jawbone stay strong and healthy, dental implants can help you preserve your youthful facial features.
But isn't dental implant surgery painful?
Dr. Olszewski Offers Sedation for Your Comfort
Dental implant surgery is a fairly standard procedure, and over 5 million implants are placed by American dentists every year.
During the surgery, you will be given a local anesthetic to numb the treatment area. For added comfort, Dr. Olszewski can also provide nitrous oxide. This "laughing gas" can help you feel relaxed during your treatment.
What happens afterward? Are implants hard to take care of?
Implant Care and Maintenance
The two most common ways an implant can lose attachment to the bone and fail once it has successfully fused are poor oral hygiene or excessive biting forces.
Practice Good Hygiene
Poor oral hygiene or a lack of regular cleanings can lead to a destructive bacterial infection called peri-implantitis. Flossing and brushing your teeth on a daily basis, along with regular professional cleanings, can prevent this.
Manage Clenching & Grinding
Excessive biting forces can come from either a habit of clenching or grinding your teeth, or an insufficient number of implants to handle the forces generated by your bite. We will make sure you receive the correct number of implants so this does not happen. And if you have a habit of grinding or clenching your teeth, we will recommend wearing a nightguard to protect your implants and teeth. After all, implants are a long-term investment in your smile, your health, and your well-being, and we want to help protect your investment.
"I had the best dentist experience today with Dr Teddi Olszweski in Northampton of my entire 66 year life. I have always feared and hated dentists and had not seen one in 13 years. I was told Dr. Teddi was very understanding of people like me and boy, that was sure right."

Brian Scully, June 2019
More Information About Dental Implants
A dental implant most often takes the form of a small, screw-shaped titanium post that replaces the root-part of a missing tooth. The surgical procedure used to place an implant is actually quite minor and routine, requiring only local anesthesia in most cases. After a healing period, the implant is topped with a lifelike crown custom-made to match your existing natural teeth. Implants have a documented success rate of over 95%, which is significantly higher than any other tooth-replacement option.
Dental implants represent a single, elegant solution to a variety of dental issues. Implants can prevent future oral health concerns associated with broken or missing teeth. Patients experience dramatic improvements in their oral health when they choose dental implants, and enjoy restored smiles without the hassle of traditional denture maintenance.
How Implants Work
During a minor surgical procedure, your dental implant is inserted directly into the jawbone in the space vacated by the missing tooth. If your jawbone tissue is insufficient for implants, a bone grafting or sinus lift procedure may be necessary to improve your chance for candidacy. It will then be left to heal for a period of months before the final crown is attached. During this healing period, the implant actually fuses to the bone surrounding it.
Many patients feel that receiving dental implants is life-changing, and we want you to experience and enjoy these benefits as well.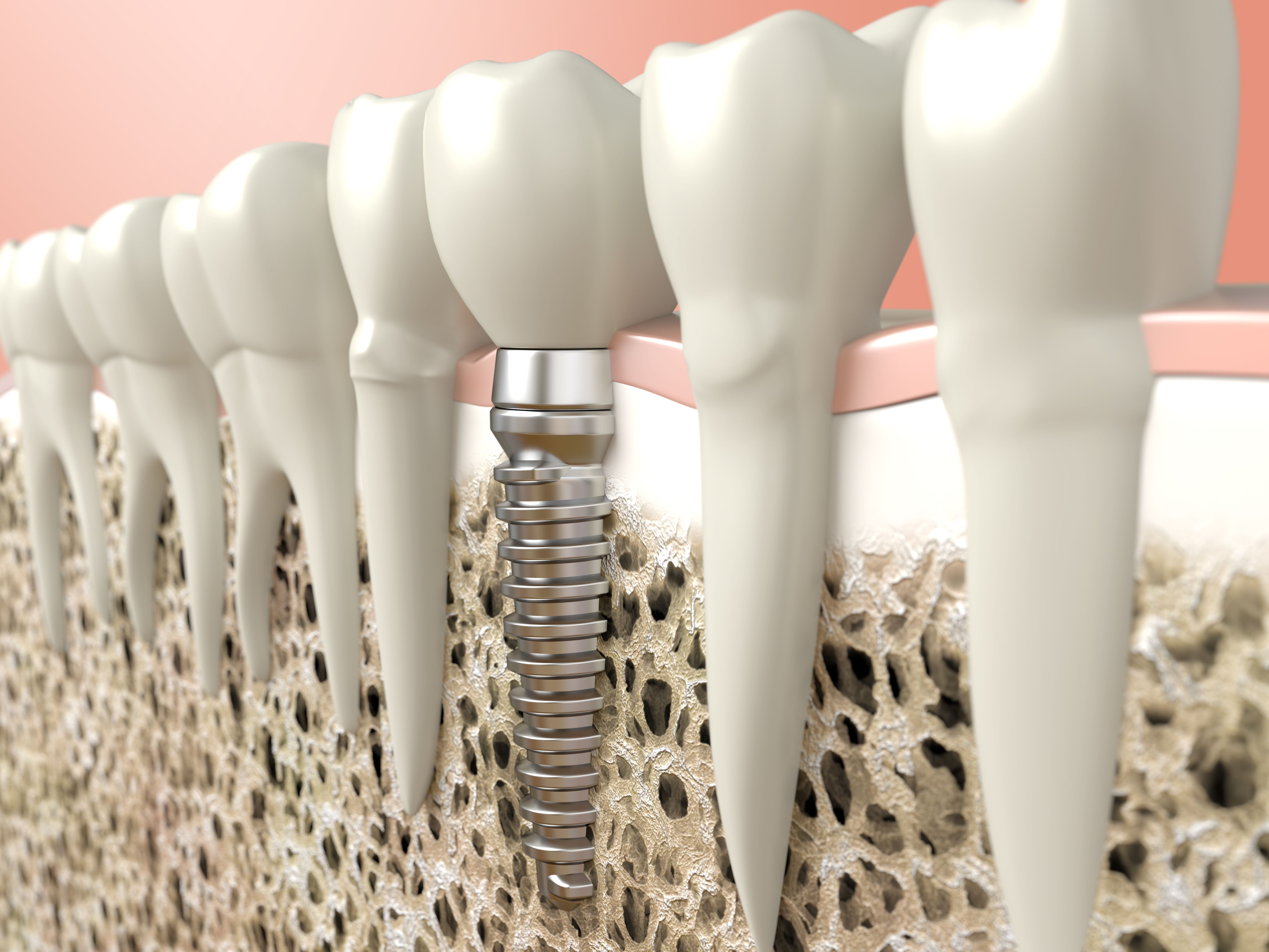 Types of Tooth Loss
Dental implants are unique in that they can support a variety of restorations to replace missing teeth. Whether you have a single missing tooth, several missing teeth, or complete tooth loss, an implant-supported restoration can effectively restore your smile. At Northampton Family & Cosmetic Dentistry, serving Easthampton and Hadley, we provide a number of implant-supported restorations, including a dental crown for a single missing tooth, dental bridges for tooth loss in an isolated part of the mouth, or partial and full dentures for patients missing most or all of their teeth.