Dental Bridges Can Replace Missing Teeth and Fill Gaps in Your Smile
Gaps in your smile can interfere with every aspect of your daily life and make normal activities, such as eating and speaking, much more difficult.
Dr. Teddi Olszewski, a dentist in Northampton, MA, serving Easthampton and Hadley, is highly trained in the design and placement of dental bridges and can create a custom device to restore the form and function of your smile.
So how can a bridge help you replace missing natural teeth?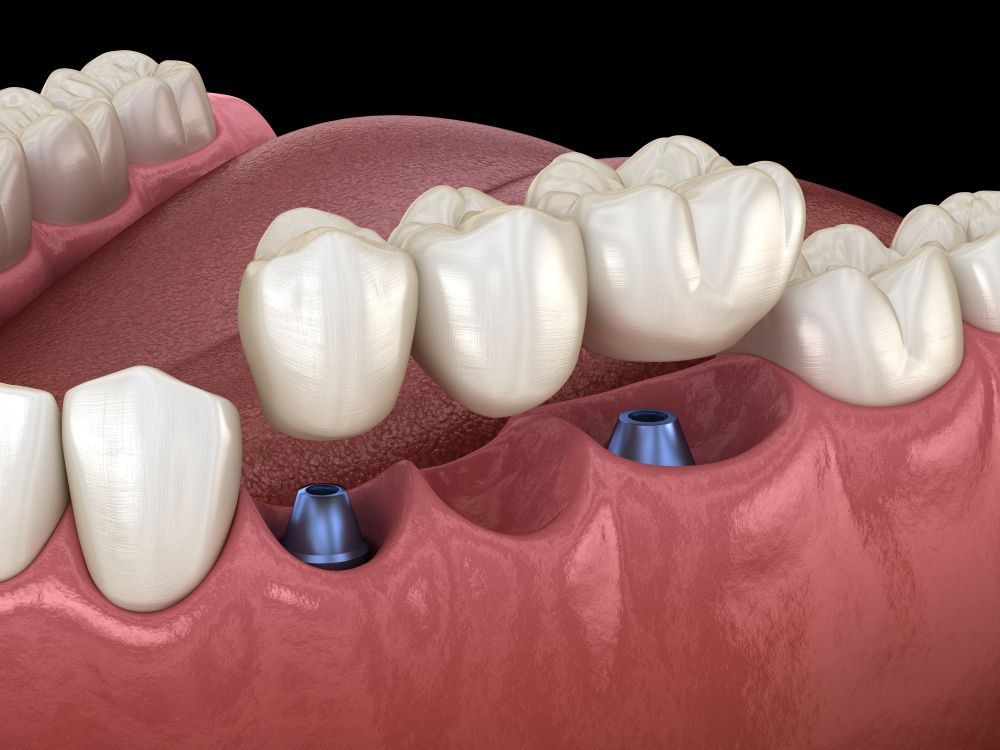 Restore Function & Fill the Gaps in Your Smile
Improve Your Ability to Eat & Speak
Once you have received your dental bridge, your smile's function will be fully restored. This will allow you to chew and speak properly and can protect against excessive dental wear on your other teeth.
Natural-Looking Results
At our practice serving patients in Hadley, Easthampton, and Northampton, MA, you can expect to receive a high-quality dental bridge using materials that blend seamlessly with the rest of your smile.
Attach to Dental Implants
For greater stability, you can receive dental implants. Your implant-supported bridge will be anchored into the jawbone which can prevent jawbone atrophy and protect your oral health.
Tired of Living with Missing Teeth?
Talk to Our Dentist Today

Whether you have one, two, or three missing teeth, a dental bridge can help you restore function and beauty to your smile for years to come. Dr. Olszewski customizes each bridge to each patient's smile, so the end results are incredibly natural-looking. To help patients get the dental care they need, our practice is happy to accept several methods of payment, including:
To talk to us about your oral health needs, visit Northampton Family & Cosmetic Dentistry in Northampton, MA, today. For an appointment, message us online or call us:
What Is a Dental Bridge?
A dental bridge is a set of prosthetic teeth (pontics) that are held between two dental crowns. They can be used to replace one, two, or three missing teeth. In order to place a traditional bridge, our dentist will need to resize the two adjacent teeth to create room for crowns. For this reason, many patients choose bridges supported by dental implants. Implant-supported bridges are anchored directly to the jawbone instead of surrounding teeth, allowing patients to preserve the natural structure of their healthy remaining teeth.
There is no reason to be embarrassed about tooth loss..
Tooth Replacement Is a Common Need
*According to the National Institute of Dental and Craniofacial Research.


Who Can Benefit from a Dental Bridge?
Important Candidacy Requirements
Small Number of Missing Teeth
Patients missing one to three consecutive teeth are ideal candidates for a dental bridge. If you have lost more teeth, you may require a partial or full denture.
Healthy Adjacent Teeth...
For a traditional bridge, the adjacent teeth must be healthy enough to support dental crowns.
...or Sufficient Bone Tissue
Dentistry patients who prefer the stability of an implant-supported bridge must have sufficient jawbone tissue to support the implants.
Types of Dental Bridges
A dental bridge is a customized dental restoration that can replace missing teeth. It is a common restorative procedure for patients missing one to two consecutive teeth and is a proven long-term treatment method. Dr. Olszewski offers two dental bridge options for patients. She uses only the highest quality materials and is able to customize the procedure to meet each patient's unique health and aesthetic needs.
Traditional Bridge
A traditional dental bridge is secured with two crowns that fit over the two adjacent healthy teeth. This process will require alteration of the healthy tissue, and those teeth will always require a crown or other restoration in the future. However, a traditional bridge can be placed even if patients have suffered from bone loss, making it appropriate for a majority of patients.
Implant-supported Bridges
Implant-supported restorations rely on dental implants for support. During a surgical procedure, tiny posts are inserted into the jaw to provide a foundation for the bridge. An implant-supported bridge can cost more than traditional alternatives, but provides superior benefits that many patients find worth the expense. Our office is also happy to work with you to place the cost of this optimal treatment in your budget.
Is one option preferable over the other?
Implants Offer Greater Value
For the right patients, dental implants are the best restorative solution because of their stability and how they protect your oral health. Implant-supported restorations are far more stable than traditional options. The implant posts also send regenerative signals to your jaw, preventing bone loss. Lastly, unlike traditional bridges, your surrounding healthy teeth can be left fully intact.
What Does the Traditional Bridge Procedure Look Like?
How Dental Bridges Are Created and Placed
During your initial consultation with Dr. Olszewski, she will examine your teeth and gums, and take x-rays and scans. She can then discuss your options with you and help you determine if a traditional bridge or an implant-supported bridge is right for you. For a traditional bridge, she will prepare your adjacent teeth by reshaping them to accommodate the crowns. She will then take impressions of your teeth for the creation of your restoration.
These impressions are sent to an advanced, off-site dental laboratory where a skilled technician will create your custom bridge out of high-quality porcelain. This process can take up to two weeks, so Dr. Olszewski may place a temporary bridge to protect your reshaped teeth while you wait. Once your bridge is ready, Dr. Olszewski will secure the crowns over your teeth, permanently affixing your bridge. She will check to ensure your bridge fits comfortably and properly aligns your bite.
Our team will work with you to determine which type of dental bridge is right for you.
Patients who opt for an implant-supported bridge will have their dental implants placed during a surgical procedure. You will typically receive two implant posts for a dental bridge. After a healing period of three to six months, Dr. Olszewski can place your final bridge, attaching it to the tops of your dental implant posts.